Well I rteceived my new gun a few days ago I had bought it new and had it sent directly to Allen Zasadny to have him go through the gun and make sure first off that everything was working as it should and then do some MODs to the gun to make it all of what I want in my new Rapid. A friend of mine had bought a "MFR†with the new "XP†Stock.
But he has always been a big fan of the DaveG stocks so he was having one made for the MFR so the "XP†stock became closet material for a few months. Was able to talk him out of the stock so I bought it and had it at my house waiting for the gun to come back from Allen Z. When I ordered the MFR it came in the standard stock, and I have to admit seemed like a very nice stock but within a few minutes off the original came, and on went the "XP†stock.
I put a Bushnell Elite 4200 6 – 24 X 40 Mil dot on it and took a few snapshots for the .net board but here are some better shots of the grain of the XP stock it is made by Gary Kane and he does not miss a detail the grip the feel the Thumbhole it all just flows together to make one sweet feeling Thoroughbred here is some close up pictures.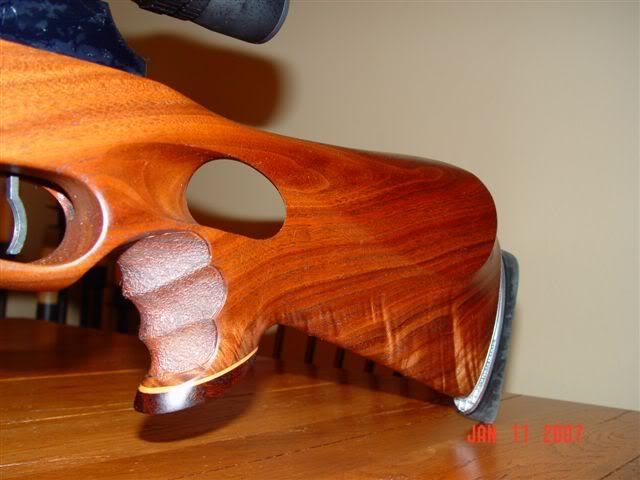 Allen Z. (now mind you this is a brand new gun, and was sent to Allen straight from the dealer) said that it was leaking air with every shot you could actually hear it, and it was only getting about 35 shots per fill, at 23 Ft.Lbs. Now the gun is getting 75 shots per fill and is regulated at 29 ft.lbs. The other Mod was leaving the stock shroud, but having Allen re-work it so it was quieter. Trigger work to have it set at 2.1/2 ounce pull. And in my book what rapid would be complete without the quick fill adaptor, to not have to unscrew the bottle each and every time you fill it.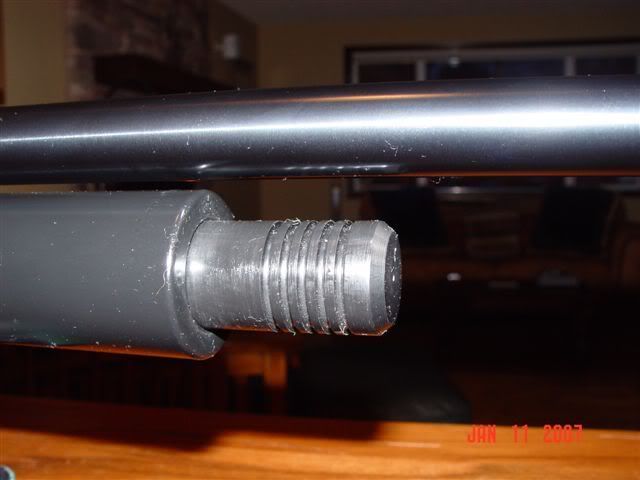 Then the oversized Bolt this makes cocking the gun a breeze much smoother then the the Stock Bolt.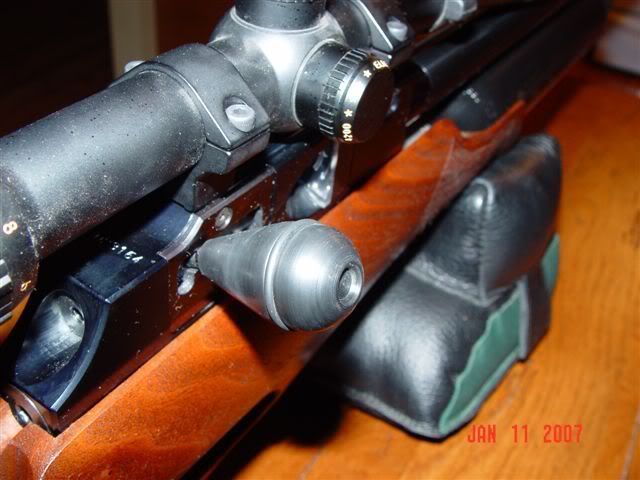 Then there is the feed for the pellet, the gun comes with a Single Shot Adaptor. But the 12 shot magazines are extra but it sure does make loading just one pellet much earier with the Scolloped out arae in the action.
OUT IN THE FIELD !!!!
The weather here was great no wind sunny but a little cold. I didn't think I was going to be able to get out with the gun to really take it through the old Hunting test for a few weeks but some afternoon cancellations, and the cleaning lady want to come in place of her usual morning appointment paved the way for a little afternoon escape. Went to one of my farms that is only about 20 minutes away from my home, with my shooting bench and all the rest of my stuff, you know, rangefinder, pellets, both CF Tanks, Allen wrenches, sand bags, targets staple gun….I mean the list goes on and on. First was 20 yards and then I moved it out to 40 Yards which is where I usually zero in most of my Hunting guns. As I was doing all of this about 45 yards away were about 200 Pigeons LHG will a test to this Hundreds just sitting on the edge of the barn watching me. I'm saying just stay right there little buddies
"OLD PAINLESS IS WAITINâ€
(that was for you Pred). It only took me about 18 rounds and I was one holing it at 40 Yards gotta love them Rapids, then off I went for a Pigeon or two there they were just waitin for me, I thought this is going to be good so I put the scope on FULL Power X24 and dialed in the focus and looked 36 Yards the were on the roof so a upward shot was in order 2 of the were lined up perfectly so I aimed for the first one right below the head so that it would kill the first one and still kill the second, at least that was the plan so KRACK and both just fell straight down in about ½ a foot of Liquid Manure what a great first kill for the "MFR†2 in one shot. Walked around and really could not believe how good the action felt, and that stock it's a sleek one, and very quiet. I think I got about 12 Pigeons 5 Starlings and a few Sparrows, all in all a great day.
KILLER-B