The BSA Ultra Carbine .22
This summer I bought the Ultra from BSA since I was in the market for a small 22 short range hunter and I felt the looks of the Ultra was just right for this kind of rifle.
Lloyd at BAR (
www.airgunbuyer.com
) reduced the power to below 8.00 ft/lbs ME (the legal limit without a permit in Sweden) and shipped the rifle to me.
By doing this I could avoid the import fee for firearms since a sub 8 ft/lbs rifle is seen as just a pellet rifle.
Anyway, I did report the rifle for a free slot in my gun permit and then I changed the hammerspring into a fullpower version.
Here is a pic of the sub 8.00 ft/lbs hammerspring and a fullpower one:
http://i64.photobucket.com/albums/h194/ ... Ultra1.jpg
With the rifle adjusted I began trying out different pellets and within short I did realize that the H & N line of pellets became the first choice for this rifle.
First off was the H & N Field & Target Trophy:

H & N Field & Target Trophy 14.66 grains in Chrony Beta:

708.00
710.00
711.00
720.00
717.00
721.00
720.00
721.00
715.00
719.00
719.00
723.00
716.00
724.00
720.00
720.00
716.00
715.00
707.00
708.00

High: 724 fps - 221 mps
Low: 707 fps - 215 mps
Ave: 717 fps - 219 mps

Spread: 17 fps - 5.20 mps
Ave ME: 16.73 ft/lbs - 22.70 joule

Starting: 3400 Psi - 232 Bar
Ending: 2000 Psi - 140 Bar


This was a very accurate pellet but it did give quite low ME due to its light weight. Then I decided to try out its bigger brother - the Baracuda:

H & N Baracuda 21.14 grains in Chrony Beta:

606.00
615.00
612.00
606.00
614.00
609.00
609.00
614.00
607.00
609.00
615.00
609.00
619.00
617.00
618.00
614.00
616.00
614.00
613.00
608.00

High: 619 fps - 189 mps
Low: 606 fps - 185 mps
Ave: 612 fps - 187 mps

Spread: 13 fps - 4.00 mps
Ave ME: 17.60 ft/lbs - 23.90 joule

Starting: 3400 Psi - 232 Bar
Ending: 2000 Psi - 140 Bar


Now - this was really THE pellet for this rifle, accurate as you wouldent belive and with lots of power downrange.
When I had found the right pellet I just had to scope the rifle up. One of my all time favorite scopes is the Leupold 3-9x32 EFR and one of those was just a must on this rifle. I mounted it using Sportsmatch mounts and also fitted Polar Caps lensprotectors and a Sportsmatch Spiritlevel.
Here is its final apperence:
As you can see its a very short rifle, just 28.00" long.
Due to its very short 12.00" barrel its however also very loud so some kind of sound moderator became a must to avoid the use of hearing protection. The best moderator in the business is without question the Weihrauch unit and I put one of those on order from England.
Here it is together with one of our major pests - the seagull:
Other bird that are free as pests (non game) here is the magpie:
I was really amazed how efficient the Ultra was as a hunter compared to my rimfire so after I had talked to a lot of hunting enthusiasts at different Internet board I decided to try out its "stopping power" in clay.
The clay was sold as modeling clay for designing different stuff and quite stiff - you couldent even press your thumb deeper then 1/2" into it using all your strength. I put the clay 33 yards (30 meters) from the muzzle and began with the Crow Magnum:
http://i64.photobucket.com/albums/h194/ ... leran1.jpg
Quite impressive entrence hole - 1.25"...
http://i64.photobucket.com/albums/h194/ ... leran3.jpg
Here is the result when the clay is cut open.
http://i64.photobucket.com/albums/h194/ ... CT0029.jpg
Here is the pellet when I had dug it free of the clay.
In the scope I could watch how the the 1 pound piece of clay made a little jump when it was striken by the pellet - a meere 18 ft/lbs is more power the one can expect.
But what happens if the pellet hits something hard inside the clay (body of the target), something like a bone..?
I decided to try using the lid of a tin for pellets and give it my best shot using the more penetrating Baracuda.
http://i64.photobucket.com/albums/h194/ ... /lera9.jpg
The entrence hole, not so large this time..
http://i64.photobucket.com/albums/h194/ ... lera10.jpg
But this time we did have a exit hole and as before the whole lump of clay made a really good jump when hit.
http://i64.photobucket.com/albums/h194/ ... /lera8.jpg
Here is the length of the clay - about 8.00".
Now it was much easier to understand why all targets fell so fast using the Crow Mags and why I always had gotten a strike trough every time using Baracudas. The 18 ft/lbs is much more power then one can imagne for such a "low power" PCP. This is really fun becouse everytime I tell somebody that my rifle only makes low 600 fps the asume its just a little plinking rifle unsuitable for hunting. Those big seagulls falling on the spot every time prove them wrong and leave them just amazed.
Now, what about accuracy, it doesent matter how good stopping power you have unless you can hit your target, right..?
Well, here is about a typical target, shot during field conditions, sitting on the bum with rested elbows on my knees, its a 5-shot group at 44 yards (40 meters) using the H & N FTT: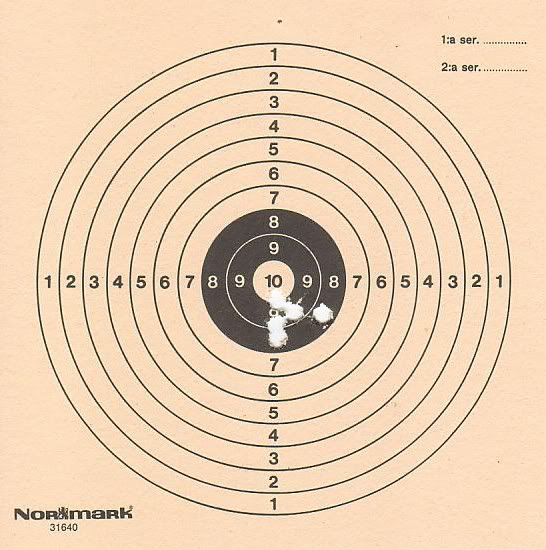 The group measure 0.500" and is about what one can expect in this range. With the Baracudas you can make such a group even at 55 yards (50 meters) but not everytime. I try to keep my hunting within 30 meters (33 yards) to ensure a clean kill every time. You never shoot as good in the heat of the moment as on papertargets.