The Airforce Airguns have always been a tinkerers dream. They have a design that begs modification and many have fabricated parts on their own or have relied on the numerous machinists out there to get their fix of 'Airforce Bling'.
These items have ranged from new valves and hammers, barrels in many configurations, buttpads, and even new ways of mounting AR 15 grips...not to mention the various shiny bits such as triggers, endcaps, and bolt knobs.
One item that has eluded the US market for a long time was the angled
tank adapter. Those of us on the Talon Forum started seeing these some
years back from a group of Argentinean enthusiasts but attempts to purchase them in the US were futile.
Enter Tony from Talon Tunes. Widely recognized as the best vendor out there when it comes to all things Airforce, Tony started teasing members of the Talon forum late last year with such an adapter and the Talon community drooled at the thought of finally being able to buy these in the US (of course, Tony will also ship overseas where legal).
Tony's tank adapter is an all in one unit that offers a high quality pressure gauge and quick fill while dropping the tank proving a more stable and ergonomic shooting platform to the popular Airforce airgun lineup.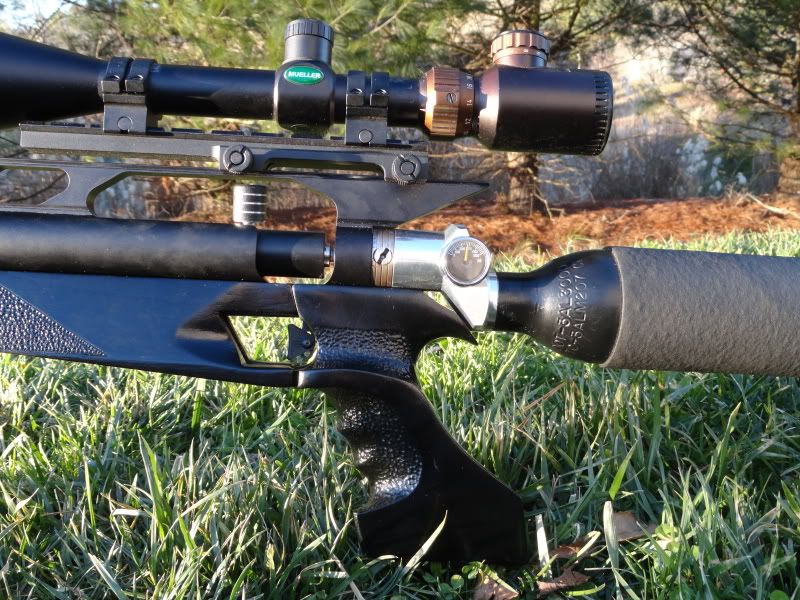 Initial impressions were the unit was well made, with clean cut threads and no machining marks. The gauge and quick fill are high quality units and the adapter as a whole looks great.
Installation was as easy as removing the valve from the bottle, screwing
it into the adapter and screwing back into the frame of the gun. If
the adapter does not time properly after screwing on to the frame, you will need to remove the grips and slide away the small plate to access the grub screw that holds the bottle collar. Loosen this grub screw and position the adapter properly on the rifle, mark the collar and drill out a small dent for the grub screw to catch. Replace using the new location for the grub screw and assemble your rifle. This is a very easy modification to make and takes less than 10 minutes and a simple hand drill and Allen head wrenches.
Shouldering the rifle proved much easier than stock and cheek weld is greatly improved. The length of pull is increased by about 2 inches, and most normal sized adults will have no problem with the added LOP. By dropping the tank, the need for extra high mounts for mounting optics is also negated, a much needed enhancement to these guns.
The looks of the angled adapter on my Condor is amazing. Tony offers these in silver or anodized black and can be had by checking out Tony's products at
www.talontunes.com
.